setting up youth for success –

teaching lorain county

Leadership Lorain County's program designed for High School Students to envision the needs of our community, empower and inspire them to make a difference, and engage with mentors and community leaders.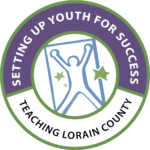 now recruiting for our inaugural class of 2024
SETTING UP YOUTH FOR SUCCESS – TEACHING LORAIN COUNTY
For High School students in Lorain County who are seeking to expand their knowledge and understanding of the diverse culture surrounding them.
Setting Up Youth for Success – TLC sessions focus on Lorain County's Economics, Entrepreneurial Endeavors, Resources, and Civic Engagement.
OUR MISSION
Setting Up Youth for Success – TLC aims to build informed and engaged Lorain County Youth who will continue to positively change our region.
WHAT WE DO
Setting Up Youth for Success – TLC connects youth to community members and our county's rich history while providing a collaborative forum for examining and addressing the current challenges and victories within Lorain County. With the mission of connecting students with Lorain County's history of innovation, inspiration and diverse cultures, Setting Up Youth for Success – TLC strives to create a love of place and encourages the integration of Lorain County's story into students' education.
Setting Up Youth for Success – TLC sessions utilize the community as its classroom and gives students direct exposure to leaders and difference makers throughout the county. We are investing in the students and community members of Lorain County while focusing on developing personal and leadership skills, promoting teamwork and networking. As part of the Setting Up Youth for Success – TLC class experience, service projects are undertaken that focus the energy of the class members on solving a community problem or contributing to the community infrastructure. Our program is an action-packed class featuring panel and round robin discussions, site visits, simulations, guest speakers, and hands on learning through immersion into Lorain County!
We believe that the youth of this community, given the knowledge and opportunity, will play a pivotal role in the revitalization of Lorain County.
Featured programming

Setting Up Youth for Success! began as a "Best Class of 2017" class project. The dedicated team created a simulation, geared towards high school sophomores, that allows the participants to experience life within the first five years after school. The students are placed into "family" situations and must navigate life, pay their bills, report/apply for employment, and deal with life's unexpected ups and downs.
The agencies and businesses represented within the simulation are staffed with LLC alumni volunteers that work in those specific fields. As the students come into contact with each location, they are able to ask questions and learn from professionals within that field. Building a professional network and opening students up to the possibility of mentoring and job shadowing opportunities.
HOW TO GET INVOLVED
We welcome people from all across the professional community to volunteer and represent their fields for the simulation, class presenters, speakers, or arrange for tours. If you are interested in being part of the class experience, becoming a mentor, or volunteering to staff a simulation please contact us today.
learn more
Want to stay up-to-date on information regarding our Setting Up Youth for Success – TLC High School Class? Fill our our Information Form by clicking on the button below.
"The Youth for Success simulation was a great experience for our youth in our Independent Living program! The activity allowed them to get a glimpse of some of the challenges that they may face when they enter adulthood. This experience allowed our students to use critical thinking skills and communication skills to help them navigate through the situations they encountered. They had a great time! Some realized they better start planning for their futures. Others realized that they are now not in a big hurry to grow up!"
Cathy Fairbanks, LSW, MSSA
Independent Living Supervisor
Lorain County Children Services