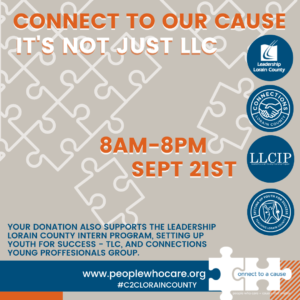 Leadership Lorain County is excited to be taking part in the Community Foundation of Lorain County's 4th Annual Connect to a Cause Day, a Crowdfunding Campaign. Residents throughout the county, and beyond,  will have the chance to support non-profit organizations that MAKE AN IMPACT ON YOU – and we hope that Leadership Lorain County will be one of them!
On Thursday, September 21, from 8:00 am to 8:00 pm funds will be raised that directly impact our county. Additionally, Leadership Lorain County will have the opportunity to receive additional dollars based on the amount raised thanks to the Community Foundations Board and Business Champions. Last year we were able to raise over $4,000 in 12 hours.
You can support in many ways, donate as little as $5, renew your LLC alumni membership, or just because you want to see future leaders gain the same experiences you had during your time with Leadership. We thank you for your support and look forward to seeing you online on SEPTEMBER 21st!
Click on the link above to visit the Community Foundation's Connect to a Cause Grant Catalog. USE THE SEARCH BOX to find Leadership Lorain County. All organizations are listed in alphabetical order. Once you've found our organization click and follow the prompts to contribute!
Donations will be open at 8:00 AM on Thursday, September 21st, and close at 8:00 PM. You can ONLY donate online during that 12 hour window, so bookmark the link, set an alarm, and support LLC on 9/21!
Want to mail in your donation? Not a problem at all! Click on the link above to download the donation form. All donations MUST BE POSTMARKED BY 9/21/2023 to be counted.
Checks should be made out to: COMMUNITY FOUNDATION OF LORAIN COUNTY and mailed with the donation form to:
Community Foundation of Lorain County
9080 Leavitt Road
Elyria, OH 44035
Want to stop by and say hello with your C2C support? Not a problem at all! Click on the link above to download the donation form, fill out and bring to the Leadership Lorain County office from 10 AM to 2 PM Monday through Friday. Donations MUST BE IN HAND at the LLC office by 3PM on Thursday, September 21st in order to ensure delivery to the Community Foundation in time!
Leadership Lorain County
1206 East Broad Street
Elyria, OH 44035