2023 DIFFERENCE MAKERS GALA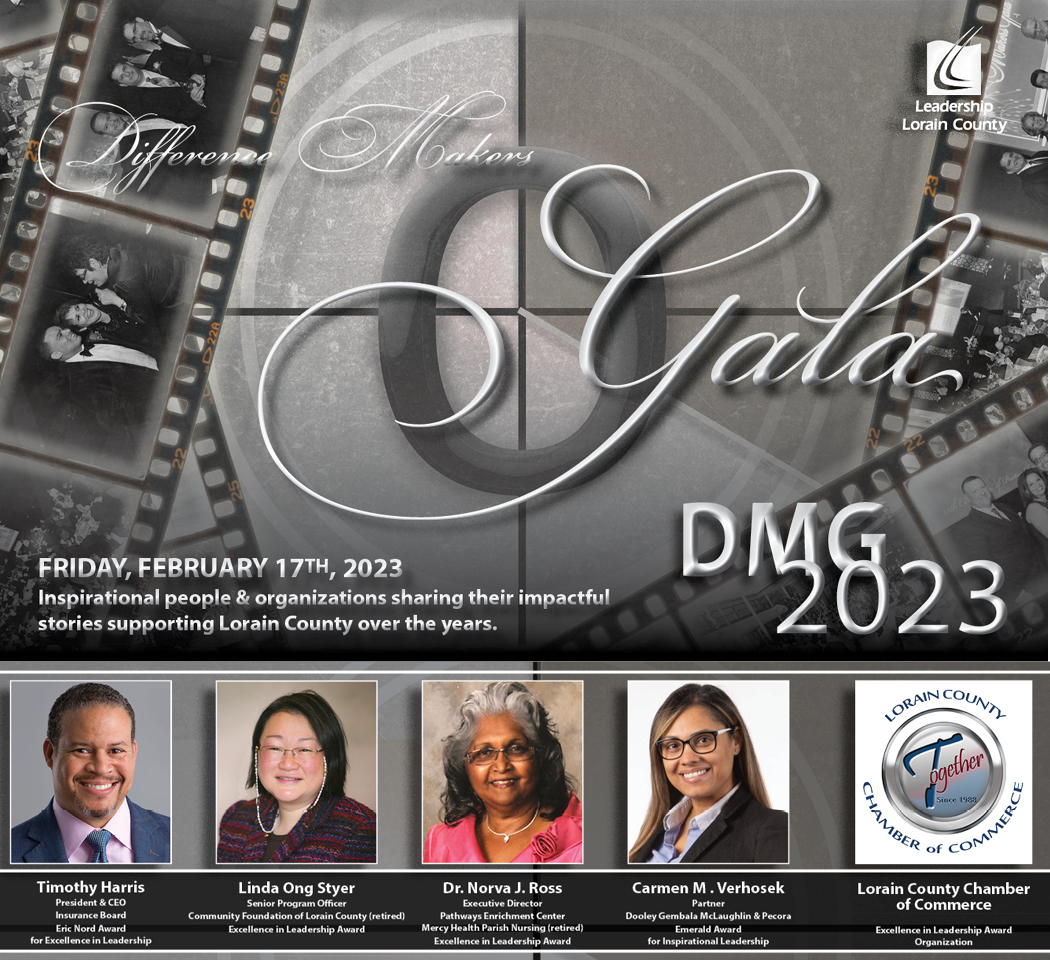 ABOUT THE DIFFERENCE MAKERS GALA
Leadership Lorain County, one of the county's top leadership development organizations, will be celebrating the outstanding community activism of these 2023 Difference Maker Award honorees at the Difference Makers Gala and Excellence in Leadership Awards ceremony. The Gala will honor individuals and an organization for their remarkable leadership and significant impact on the Lorain County community and beyond.  In total, Leadership Lorain County received over 40 nominations for this year's ceremony. Our DMG honoree selection committee, made up of two Lorain County community members, three LLC Board members, and our President & CEO went through an extensive review process of each of the nominations.  Leadership Lorain County is excited to return to an in-person event as we celebrate inspirational people and organizations sharing their impactful stories supporting Lorain County.
More About the Difference Makers Gala
The first Difference Makers Gala was held in 2004
The first Eric Nord Award for Excellence in Leadership was given in 1996 to Eric Nord (a full list of honorees can be seen on our Difference Makers webpage, link below)
In 2015 the Emerald Award for Inspirational Leadership was introduced in honor of LLC's 30th anniversary – geared towards individuals aged 45 and younger, this recipient must have demonstrated integrity, honor, service, and transformative leadership in Lorain County.
More information on each of the 2023 Difference Makers honorees can be found on the Difference Makers Gala Event page or like our Facebook page.
About Leadership Lorain County
The mission of Leadership Lorain County is to develop and advance leaders who support the growth and diversity of our county by directing initiatives to connect the people, government, academia and businesses of Lorain County. Through this mission Leadership strives to be the primary resource to connect the hearts of business, education and philanthropy throughout our region. We are dedicated to developing life-long leaders, passionate about improving the vitality of the county, able to lead initiatives within the dynamics of our community, all while helping their own organizations become a valued partner in the resurgence of Lorain County.
2023 DIFFERENCE MAKERS HONOREES
If you have any additional questions please feel free to contact Leadership Lorain County at 440-281-8535 or email us at llc@leadershiploraincounty.com.
Julie Cruz Blair – President & CEO
Jennifer Gercak – Marketing & Communications Manager
Tatianna Velez – Program & Administrative Assistant